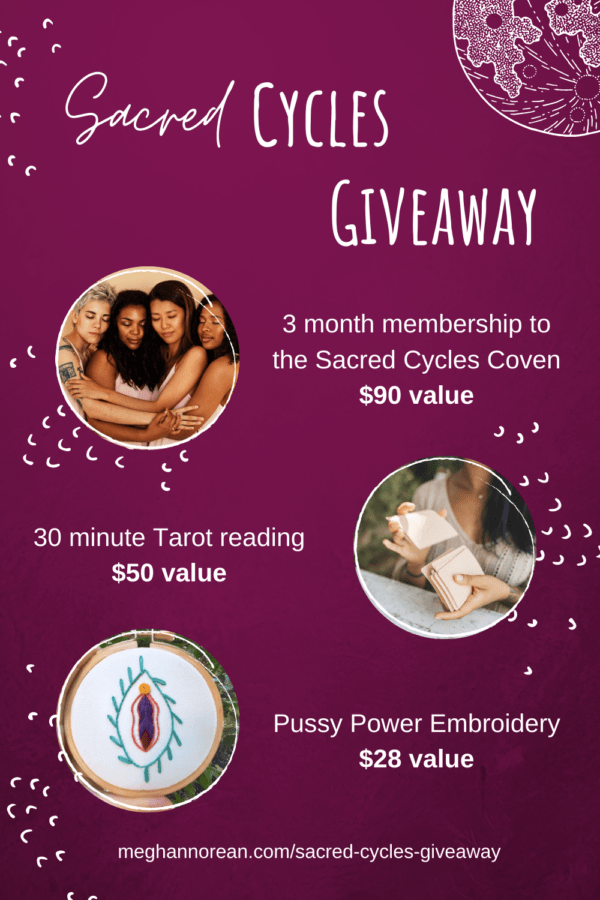 Hello lovely!
I'm so excited to bring you this giveaway! March is my birthday month and I couldn't think of a better way to celebrate than spreading the love around. The more I lean into gratitude and abundance in my life (you can read more about that here), the more I want to give back to this community.
Here's what you could get:
3 month membership to the spring season of the Sacred Cycles Coven beginning on March 13th. Join a community of women + menstruators to embody healing with the rhythms of womb + earth.
a 30 min video Tarot reading sent to your email. I'll answer whatever burning question is in your mind or give a general reading. Your choice. 
1 Pussy Power Embroidery, handcrafted by yours truly. This would be a great addition to any feminist home.
The giveaway is now closed.
Thank you to everyone that entered!
Are you interested in the transformative healing power of circle gatherings and desire to have a sacred space of belonging and connection? You can learn more about the Sacred Cycles Coven, where we are weaving cycle magic into our bodies, the earth and community. There is space in the Coven for you to show up in your authentic truth and be witnessed in story and embodied ritual. Will you join us?
If you are ready to start your own journey into cycle awareness download this free inner seasons cycle chart to get started!